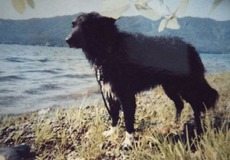 Chubaka Wolffe 2001-2016, Born in Northumberland, England. Long-Haired Curly-Rare Male Border Collie. BLK/WHITE with Ticking.
Chubaka as he is known was a perfect gentleman. He loved any and all activity, this included agility, diving, herding, car rides, you name it he loved it all. He was the sweetest most gentle man everyone who knew him or had the opportunity to meet would say about his demeanor and character.
Chubaka is one that was quick to learn, eager to please everyone, he also had a extreme nurturing nature, loved to play or just snuggle up with his people.
ABCA/KC Registered
Cearence of all health genetics, OFA Certified excellent.
In Memory of Chubaka.