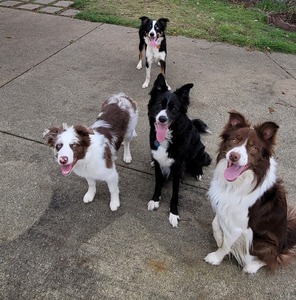 Planned
Puppies to arrive April 16th 2023
Confirmed
Breeding Right Now
If Interested please fill out form to be put on list.
Misty Mountain Border Collies is remotely located on the south end of the Olympic National Forest in Washington State in a small town of Montesano. located 42 miles west of Olympia, and 37 miles east of the pacific ocean. Misty Mountain founded 2019, which is new but I can assure as a breeder, my experience dates back from 1999, with my first male Border Collies named Chubaka Wolffe. My previous experince with breeding was with German Shepards while living in Guam. This time around, all my BC are registered ABCA. All my dogs have herding, agility, experiences behind them.
"NO HOLDS, OF A PROMISE TO PURCHASE, HOLDS WILL ONLY BE DONE BY DEPOSIT."